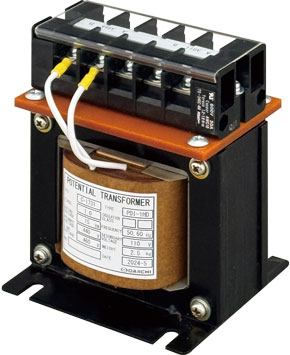 Dry-open type(230V/460V or less)
PDI-1



Epoxy resin mold(460V or less)
RP-111N
FEATURES



JISC1731-1 standard current transformer for meter. JEC-1201 standard voltage transformer for meter.
Voltage Transformer for meter: Many varieties of model are on product line-up from dry-open type to mold type.
Voltage Transformer for low voltage is compact and wiring work is easy.
Epoxy resin mold type should be used when high insulation is required.
catalog for voltage transformer
catalog for voltage transformer(VT) for various meter
Dry-open type/ epoxy resin mold
e_VT_VT_Revb.pdf
SIZE:1.0MB
total page no.:3
product

voltage transformer

structure

insulation system

type

rated load (VA)

class

wire wound

dry-open

PDI-1

15

1.0

50

100

w/ fuse

epoxy resin mold

RP-111N

50

1.0

RP-112N

100

1.0

RP-113N

200

1.0